We might be biased, but at Oberle Roofing Company, we think the roof is the single most important part of any home. After all, without a solid and sturdy roof in place, the rest of your home will always be vulnerable. There are plenty of other important systems inside, but it is the roof that is the first line of defense. 
Whether the project you are facing is a roof for a brand-new home, or you need a replacement roof added on top of an existing house, Oberle Roofing is the easy choice. With the experience and expertise to get the job done, there is no reason to look anywhere else. Ready to schedule a free estimate?  Or just want to get in touch to ask a few questions? Either way, contact us at your convenience to get started. 
O
verachieving

at Every Step
Oberle Roofing was

VERY professional and hard working

. I really enjoyed my experience with them putting a new roof on my house. I absolutely love it. Dalton was amazing from start to finish,

guiding me with insurance

and answering any questions I had! The crew was on time, polite, and got to work fast. They did an amazing job with cleanup as well! Would recommend them with the utmost confidence.
– Amanda
I would like to personally thank Andy and the team here. My elderly father recently just had his roof replaced and Andy made it a breeze for not only my father, but the rest of the family as well. He went above and beyond to make sure everything was taken care of. A1 service!
Michael Bayles
2022-10-18
Oberle Roofing did an excellent job replacing my worn out roof. Brian , help me through all the steps. From talking to the insurance company, setting up roof inspection and to seeing that the insurance company follow up on their end. All the work was done in a single day and on time, afterwards you could not tell they had been here. Also hurricane Ian came through and I did not lose a single shingle. Thanks again to Brian and the Oberle Roofing team.
Karen Carpenter
2022-10-18
Brian took care of business from start to finish. Everything occurred just like he said. Highly recommend
Installation went smoothly including clean up.
We just had our roof re-shingled by Oberle Roofing and are grateful for our choices. They cheerfully inspected our roof for storm damage and informed us of past hail damage. They recommended we inform our Insurance company. First thoughts was the inconvenience and the hassle of workmen running allover the house for weeks. The Oberle Roofing agent/ owner (Dawton) assured us this would not be the case. One day the shingles would be delivered and the following day the roofers would install and clean up the job site. They even followed up the following day with inspectors policing the grounds for any nails that may have been missed. We are extremely satisfied with the quality of their work and the conscience mannor exhibited. No body could have done it better or as good. Kaye & Wes Birt
Professional, affordable and timely service. No matter how small or big the job they will do a super job. I will continue to use their services with all my property management properties. Travis Kay, Kay Real Estate Group, LLC
Oberle Roofing helped us navigate a stressful insurance situation regarding our roof. The owner came to inspect the roof, met with an adjuster while we were out of town, and installed a new roof. The crew was quick, professional and took excellent care of our property while working.
Susann Williams
2022-09-15
These guys are top notch. Worked hard with insurance company to get approval and their crew did a great job!
Daniel DeHaven
2022-09-14
Would love to thank Andy and the staff at Oberly for coming in and doing a great job they're knowledgeable courteous and some of the best people I've ever worked with thank you so much! We love the roof highly recommend them!
Storm Damage Tips
In South Carolina, your insurance rates cannot be raised as a result of filing a claim for acts of nature (wind, hail, and hurricanes)

Most hail and wind damage is not visible from the ground. Its best to get a documented inspection from a professional.

Insurance companies will cover the cost of your roof replacement if they approve your claim, minus your deductible. Your deductible covers a portion of the cost and is paid by you, to your contractor.

A knowledgeable and trustworthy roofer on your side can make the claims process a breeze!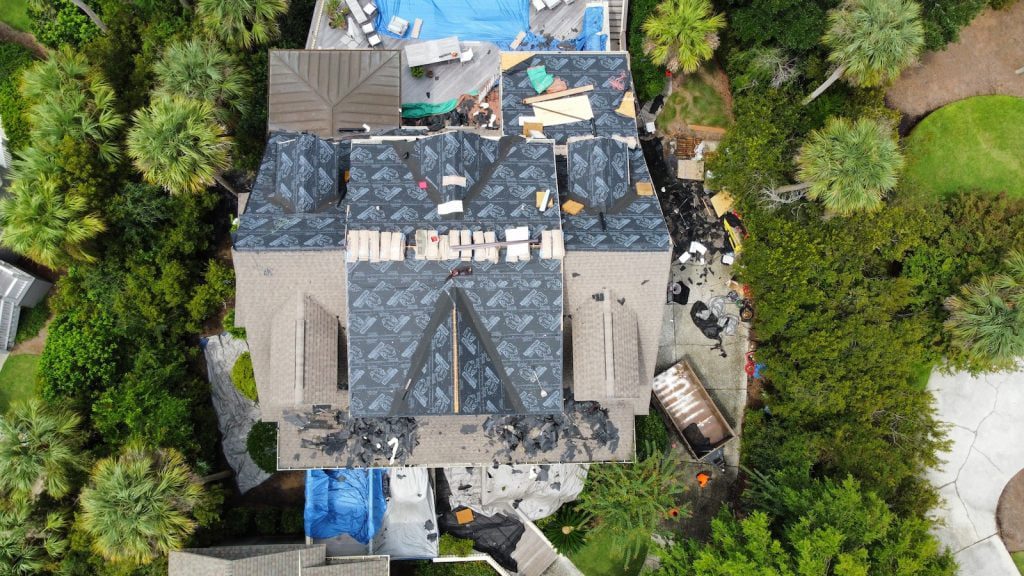 Kiawah Home Roof Installation
Quality

Roofing Workmanship
We deliver beautiful and reliable roofing for your home.  And when we leave your home, it should feel like we weren't even there.  Our expert team does a thorough inspection of the property collecting all debris, nails, and fallen shingles to ensure your property is left in great condition.  
Rest assured that the new roof on your home will be something that you can trust to keep rain and the rest of the elements out for decades to come. A good roof is important no matter where you live, but it takes on a little extra value in the Lowcountry, as our weather conditions demand that a home is as tightly covered as possible when the storms roll in.