There are various types of roof repair projects that can be required in the Lowcountry, and our team is up to the challenge for all of them. A simple repair might involve nothing more than properly replacing some missing shingles or tiles to return the roof to its original condition. That will be a simple task for our experienced team, and we'll perform the work safely and in a timely manner. 
Whether the project you are facing is a roof for a brand-new home, or you need a replacement roof added on top of an existing house, Oberle Roofing is the easy choice. With the experience and expertise to get the job done, there is no reason to look anywhere else. Ready to schedule a free estimate? Just want to get in touch to ask a few questions? Either way, contact us at your convenience to get started. 
O
verachieving

at Every Step
Professional, affordable, and timely service.  No matter how big or small the job they will do a super job.
Travis
I would like to personally thank Andy and the team here. My elderly father recently just had his roof replaced and Andy made it a breeze for not only my father, but the rest of the family as well. He went above and beyond to make sure everything was taken care of. A1 service!
Michael Bayles
2022-10-18
Oberle Roofing did an excellent job replacing my worn out roof. Brian , help me through all the steps. From talking to the insurance company, setting up roof inspection and to seeing that the insurance company follow up on their end. All the work was done in a single day and on time, afterwards you could not tell they had been here. Also hurricane Ian came through and I did not lose a single shingle. Thanks again to Brian and the Oberle Roofing team.
Karen Carpenter
2022-10-18
Brian took care of business from start to finish. Everything occurred just like he said. Highly recommend
Installation went smoothly including clean up.
We just had our roof re-shingled by Oberle Roofing and are grateful for our choices. They cheerfully inspected our roof for storm damage and informed us of past hail damage. They recommended we inform our Insurance company. First thoughts was the inconvenience and the hassle of workmen running allover the house for weeks. The Oberle Roofing agent/ owner (Dawton) assured us this would not be the case. One day the shingles would be delivered and the following day the roofers would install and clean up the job site. They even followed up the following day with inspectors policing the grounds for any nails that may have been missed. We are extremely satisfied with the quality of their work and the conscience mannor exhibited. No body could have done it better or as good. Kaye & Wes Birt
Professional, affordable and timely service. No matter how small or big the job they will do a super job. I will continue to use their services with all my property management properties. Travis Kay, Kay Real Estate Group, LLC
Oberle Roofing helped us navigate a stressful insurance situation regarding our roof. The owner came to inspect the roof, met with an adjuster while we were out of town, and installed a new roof. The crew was quick, professional and took excellent care of our property while working.
Susann Williams
2022-09-15
These guys are top notch. Worked hard with insurance company to get approval and their crew did a great job!
Daniel DeHaven
2022-09-14
Would love to thank Andy and the staff at Oberly for coming in and doing a great job they're knowledgeable courteous and some of the best people I've ever worked with thank you so much! We love the roof highly recommend them!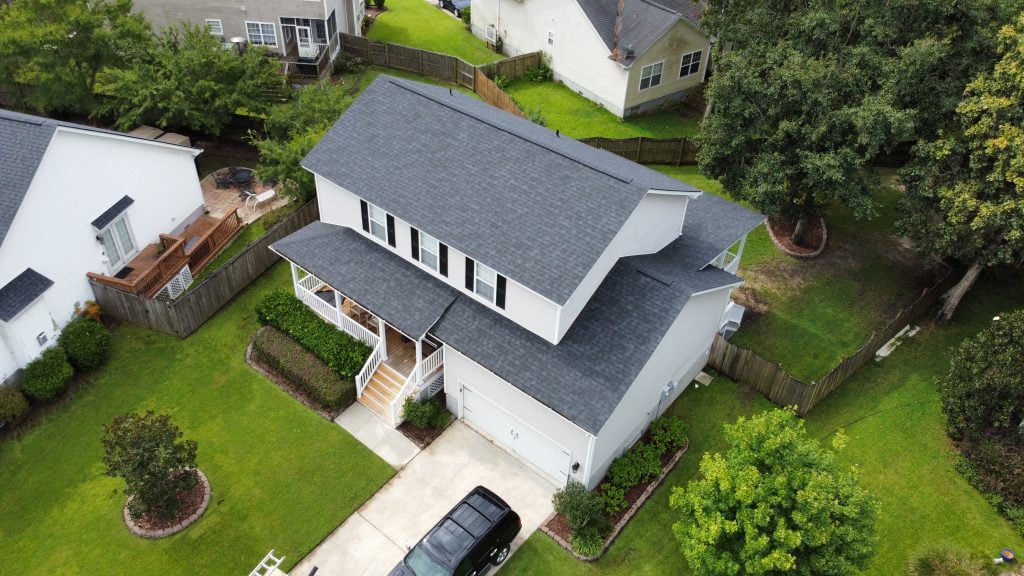 Charleston Home Roof Installation
When some roofing contractors visit homes to perform repairs, they are focused only on the roof – and wind up doing damage to the property in the process of getting their job done. Specifically, they fail to consider the landscaping that the homeowner has worked so hard to establish, and as a result, that landscaping takes a beating before the repairs are completed. 
That won't be a problem with Oberle. We use a landscape protection system to make sure your beloved plants and flowers are safe while we do our work. This way, when we pack up to leave, the roof will be in excellent condition and the landscaping will be no worse for the experience.